This tutorial will cover the process of creating segments in Google Analytics and pushing those audiences into Google Ads for targeting.

Linking Accounts
Okay, so we know how critical audiences are and we've decided to use audience lists from our site visitor to use for remarketing with search or display in Google Ads. In this tutorial, we'll go through step by step of how to create and push an audience from Google Analytics to Google Ads.
Before starting you need to make sure that your Google Analytics and Google Ads are connected so they can communicate with each other.
To do this open up Google Ads, click tools and setting on the top menu, then Audience Library > Audience Sources > then you should see Google Analytics. If it's not set up then you will have the option to link it there.

Creating Segments in Google Analytics
The first step in setting up audiences is creating them in Google Analytics.
Go into your Google Analytics and in any report click "Add Segment"


Name your segment and configure it. Here I am creating an audience for anyone that hit a course page for Python by using a regex match. I am also adding a filter to only include users who have not already converted since I don't want to remarket people that already converted. I check to see the preview on the right-hand side that tells me how many users would have fallen into that segment to make sure it is working.

Then I save my audience.
Push to Google Ads
In Google Analytics, go to Admin > Audience Defintiions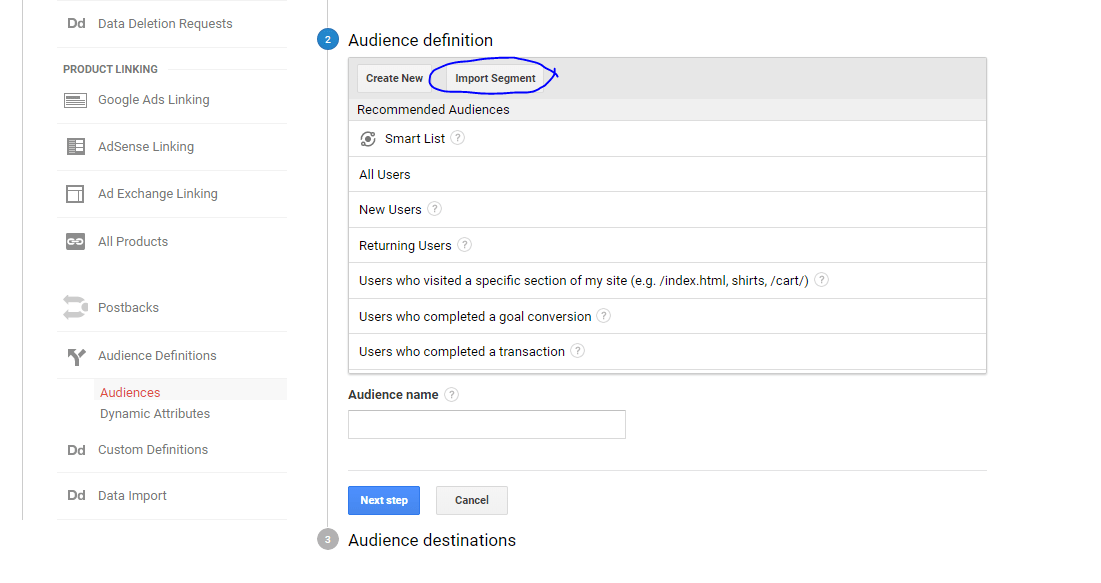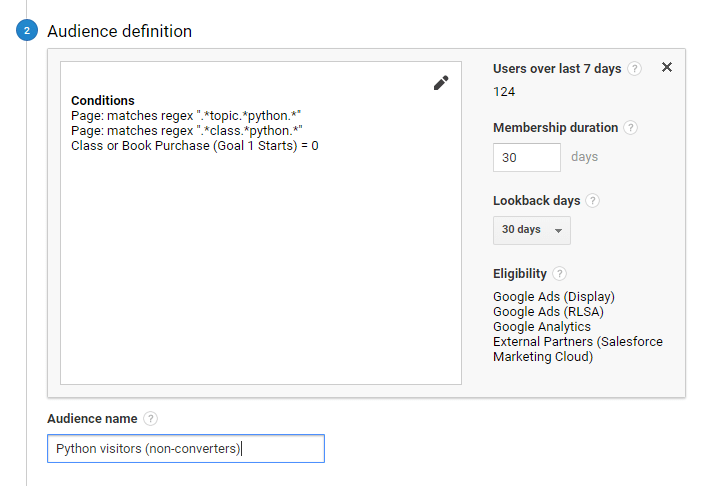 Then select the audience destination as your Google Ads accounts and hit Publish.
You can check that it worked by going back to Google Ads > Tools > Audience Library > Audience lists and you should see the new audience there.
Learn Google Analytics & Google Ads
Learn the setup and the strategy for doing audience targeting and remarketing with our digital marketing classes. Join us for Google Ads training or Google Analytics classes, or learn them both in our new Digital Marketing Certificate program.