Google Analytics is a powerful web and marketing analytics tool that pulls together data from a variety of data sources and is critical for digital marketing. Learn more about the power of Google Analytics and what you can do with it in this article with examples.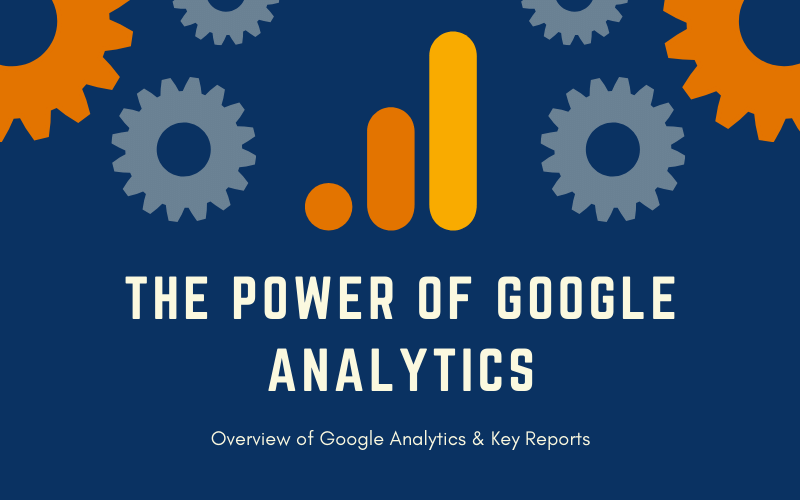 Google Analytics is a powerful web analytics tool that can be used for a variety of purposes and I'd recommend it to just about anyone with a website. Google Analytics brings the power of Google to your site so you can understand your users and their behavior better to improve your site and marketing.
If you are new to Google Analytics, you may be wondering where to start and what the uses are for Google Analytics so let's walk through a couple of examples to get you going.
Audience Reports
Ever wondered who your users actually are? Well, the audience reports can help you learn more about your users. The audience reports can tell you things like user demographics, interests, geography, device types, and more so you can make decisions and optimize accordingly.
Say a majority of your users are on mobile devices, you'll want to make sure your site is optimized for mobile usage. If your visitors are clustered in specific regions, you may want to tailor your offerings and content to those regions. You'll also be able to learn about repeat user behavior and how users come back over time.
Below you can see an example of an Interests Report where you can see what interest groups your users fit based on their behavior across the web.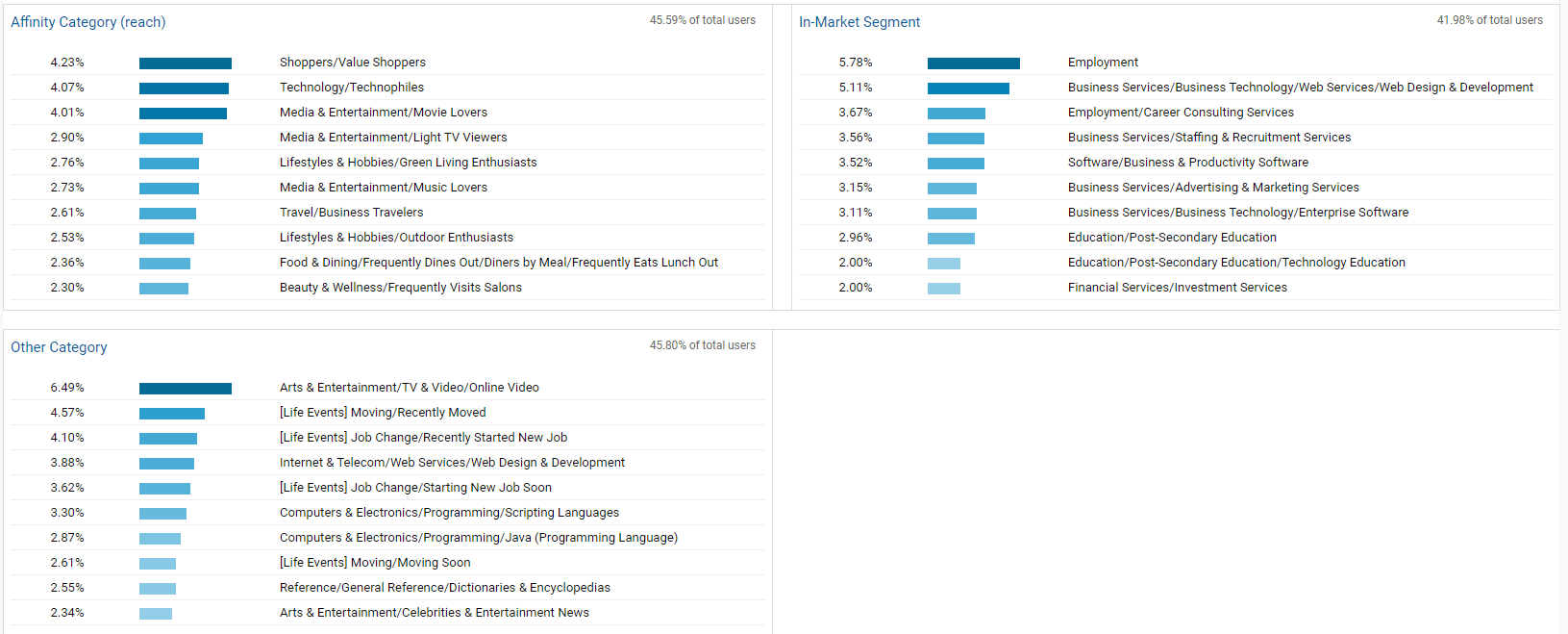 Acquisition Reports
The acquisition reports give us insight into where we are acquiring our website visitors from. We can get a breakdown over a specific time period of all our users by traffic source. This can tell us if our marketing efforts are working and help inform our marketing strategy going forward. Let's say we put out a big ad on an affiliate website, we'll be able to see that "referral" traffic in our acquisition report and quantify the reach and impact of that advertisement.
Say we're running Google Ads campaigns and want to see how much traffic we are generating from those, we can head over to our acquisition reports. Now, you will probably want to look at your marketing channels individually as well with the specific advertising tools (Google Ads, Facebook Ads, Search Console, etc.), but Google Analytics allows you to see things holistically and capture the bigger picture of your marketing efforts through your website.
Below you can see an example of an Acquisition Overview which shows a breakdown by channel with some additional information.

Behavior Reports
Now that we have brought those users into the site, we want to know what they are actually doing on the site, and that's where we head over to our behavior reports. There we can see things like Time on Page, Bounce Rate, Exit Rate, and Behavior Flow.
You can get a better understanding of user behavior and make site optimizations with these reports. Some common things you might learn here:
High Bounce Rate: If certain pages have high bounce rates you may want to evaluate page speed, content-query match, call-to-actions, and mobile-friendliness.
Site Speed: You might find certain pages are loading slower than others and can make improvements accordingly.
Behavior Flow: You can see common page paths that users take and understand how to drive to them better to the pages that matter most to you.
Below you can see an example of a behavior report that gives insight into time on page, bounce rate, and more.

Conversion Reports
Last, but certainly not least, are your conversion reports where you can see how users convert on your goals. Your goals can include a purchase, email form, time on page, or any other sort of interaction with the site.
Let's say we're selling products online and we want to see how certain segments convert or different sources of traffic convert, we'd turn to our conversion reports. We can see things like goals by source, funnel visualizations, and how multiple channels interact together to form a conversion.
Here you can see an example of a Multi-Channel Funnel Report where you can understand the various channels that your users go through before converting.

Recap of Google Analytics
This overview only scratches the surface of what you can do with Google Analytics, but once you learn what you need, you'll be able to do advanced marketing and web analytics in Google Analytics to grow your career and your business.
You can create custom segments in Google Analytics to compare the behavior of different segments and custom reports to drill down even further than the standard reports. Mastery of Google Analytics can be extremely valuable for any digital marketer, entrepreneur, business owner, or anyone with a website.
In our Google Analytics training classes, you'll learn to set up your account, understand the data, and become a power Google Analytics user so you can make marketing and site optimization data-driven decisions.