Talent, Skills, and a Good Portfolio Are More Important Than a Degree
Graphic design is a great career path for those who have an artistic eye and enjoy creative projects. Contrary to popular beliefs, a traditional four-year college degree is not required to become a professional graphic designer. Just because someone has a degree doesn't make them automatically a great designer. A good portfolio that shows strong design skills is really important in this industry and is more important than a degree.
Can I Get Hired as a Graphic Designer Without a College Degree?
Yes, the graphic design field has lucrative opportunities for those who enter the field, regardless of a college education. It's estimated that designers earn an average salary of $58,000 in the United States, though this increases in areas like New York, New Jersey, and California.
If you are looking to jump-start your design career but are hesitant without a degree, there are steps you can take to help strengthen your design skills and secure a position. Alternative education routes are available for those who want to learn the field in a shorter amount of time or prefer to learn independently.
What Are the Steps to Becoming a Graphic Designer?
Here's an overview of the steps, which we discuss in more detail below (click any to jump down to that specific topic).
1. Get Familiar with the Graphic Design Industry
A great way to learn more about the graphic design field and see if you want to pursue more training before committing to a longer course is to watch free YouTube videos.
Below is a video we made on how to get started in graphic design, to help you make sure graphic design is right for you, what apps designers use, and more. In the video you'll learn:
What graphic designers do
The apps graphic designers use (Adobe InDesign, Photoshop, Illustrator, Adobe XD, Figma, Sketch, etc.)
See examples of design work
Strategies for developing a graphic design portfolio
How to get started learning graphic design
The slides shown in the above webinar can be viewed at nobledesktop.com/presentation/get-started-in-graphic-design
2. Learn Graphic Design Concepts
Once you know that graphic design is something you want to pursue, you need to form a plan for learning. If a four-year degree seems too time-consuming or expensive to pursue, there are different options for professional training that are faster and easier to obtain.
This graphic design certificate program is available in a live online format so that you can take them from any location. Certificate courses not only train you on industry software but provide projects as an opportunity to build your portfolio. They are more focused, and therefore can be completed in much less time than a multi-year degree program.
3. Learn the Software
If you want to start a graphic design career without a degree, it is crucial you master the software used by professionals in the industry. The most common software used by designers is the Adobe Creative Cloud and features popular apps like Photoshop, Illustrator, InDesign, Adobe XD, After Effects, and more.
Adobe Creative Cloud contains over 20 apps used for graphic design, along with fonts, a portfolio website, and more. A paid membership is required to gain access to download and use the software and other features.
4. Complete Personal Projects
Another way to gain valuable design experience is to work on your personal projects that spark your creativity. This is a no-pressure way to strengthen your skills within the various software and work towards developing your own style in the field. Always working for a client or company can shadow your own creative goals, which is why it's important to keep a balance by working on your own projects throughout your career.
5. Build a Portfolio
Building and maintaining a portfolio is vital for any design professional, as it is often a client's (or hiring mananger's) first impression of your work and personal style. Different websites and platforms are available to help you create your own portfolio website, though there will be limitations with free options. One choice for design professionals is Adobe Portfolio because it's included at no extra charge with the Creative Cloud, which most designers already have. Adobe Portfolio was built for designers, photographers, artists, and different types of creatives to showcase their work. Building a solid portfolio can help you stand out among other applicants with employers or other designers when trying to land a client.
6. Gain Experience: Start Freelancing and/or Find Internships
Start Freelancing
One of the best ways to gain design experience without a college degree is to start freelancing and promoting your services to clients. Once you understand the software used in the field, and develop a strong enough sense of design, you can use sites like Upwork and Fiverr to begin building a portfolio of work. It is important to verify any state or federal requirements for self-employment before starting your journey as a freelance designer.
Find Internships
Even if you are not a student or do not hold a college degree, there are internships available for those who have some experience in the field and want to gain experience for their career. It's common to see entry-level internship positions posted on job board websites like Indeed, as well as through professional clubs or organizations. Search on LinkedIn for things like summer internship programs to try to find internships or job openings.
7. Do You Have a Niche?
The term graphic design actually covers a vast area of the design industry, including digital design, web design, motion graphics, and other focuses. Some of the biggest areas of digital design are user interface (UI) and user experience (UX) design. Mastering UX and/or UI design can provide additional job opportunities in web design and app design, which tend to offer a more lucrative salary than other design positions.
Some designers focus on certain areas of design: web design, motion graphics, logo design, print design, etc. Finding your personal niche or specialty in the industry may help you identify your target audience and create a portfolio that truly showcases the type of work you're best at or more passionate about.
While building a portfolio and interviewing for jobs, it can be helpful to have examples of your personal niche in the graphic design industry. That said, many designers do a variety of different types of design, so don't feel like you have to focus on just one specific niche.
8. Stay Up To Date
Regardless of whether you hold a formal degree in design, staying updated on current trends in the industry and software processes is crucial for anyone looking to secure a new career role. Technology is always evolving, which means software can change each year with each new release. Taking refresher courses in software or best graphic design practices can help you stay up to date in the field and stand out from other applicants.
9. Learn From Someone Who Did It
Alex Pappas took our Graphic Design Certificate and has this to say about his experience and transition to becoming a graphic designer:
"My experience with Noble Desktop was exactly what I was looking for! I went from knowing nothing about graphic design to getting expert training all via Zoom. All of the professors I had were welcoming, engaging, and made me feel comfortable asking questions and seeking advice on how to use the Adobe apps.
I have since been able to pick up some freelance graphic design work as well as gain a new role in advertising/marketing with my current company that had been previously outsourced to a graphic design firm. I have become very skillful in corporate marketing and advertising. I also learned a lot about picture enhancing along the way, which really allows me to get the best out of photos I take on vacations or travels. I would recommend Noble Desktop to anyone who is looking to get into graphic design and learn a skill set that is invaluable in today's world."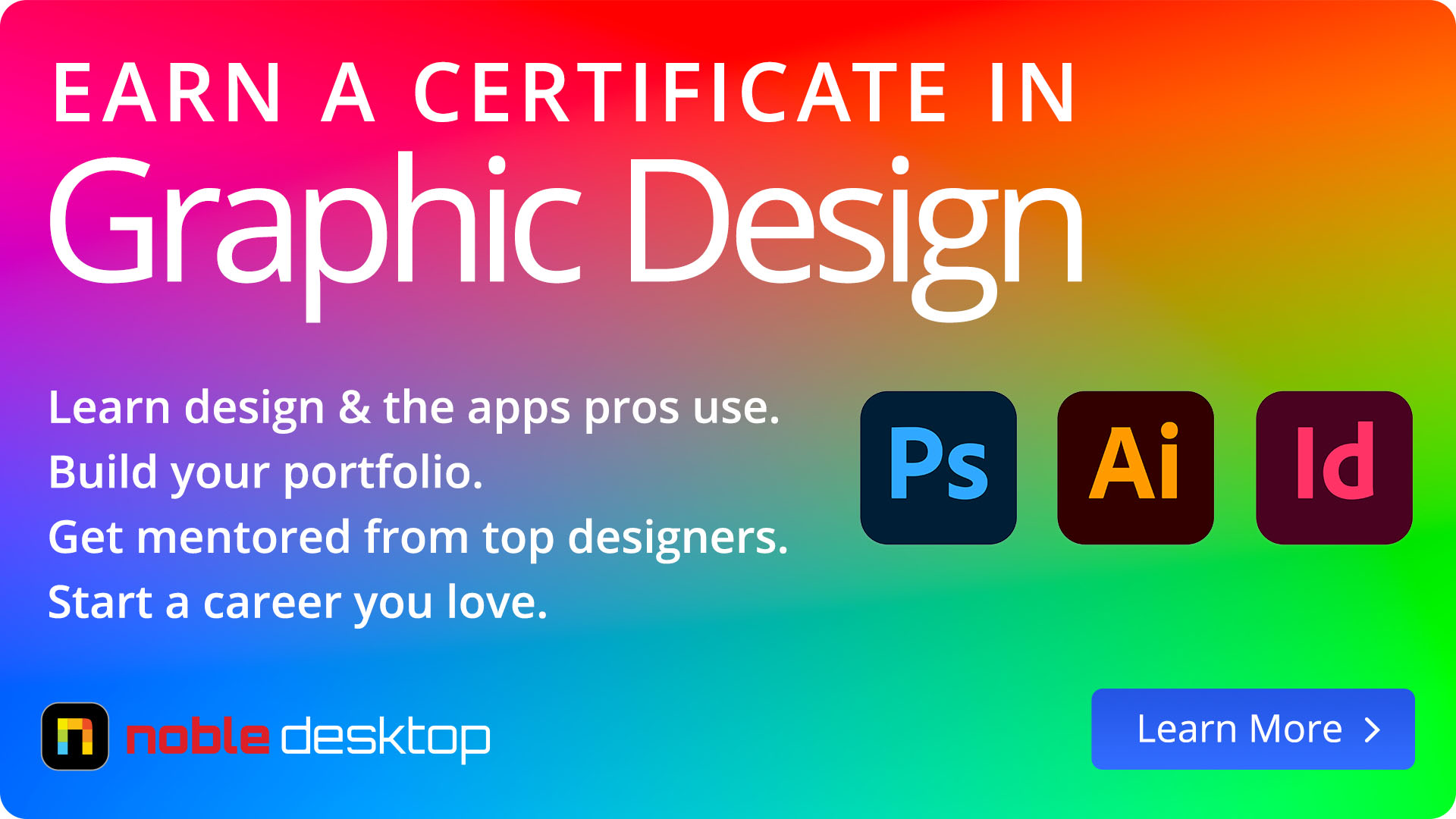 Have Fun Learning & Designing!
Design is a fun and creative industry. While a four-year degree can help, it is not always required to secure a graphic design position or landing your first client. There are alternative options that can get you started much faster, so you can start freelancing or applying to jobs. Taking Noble Desktop's Graphic Design Certificate program provides immersive training without the long commitment or high costs of a college degree.
As you're learning, enjoy the process! We wish you all the best and success in your journey.