Search marketing, both SEO and Google Ads, is extremely data-driven and you'll need to have the right tools set up to succeed. Thankfully there are a ton of free tools out there to help you with SEO and Google Ads.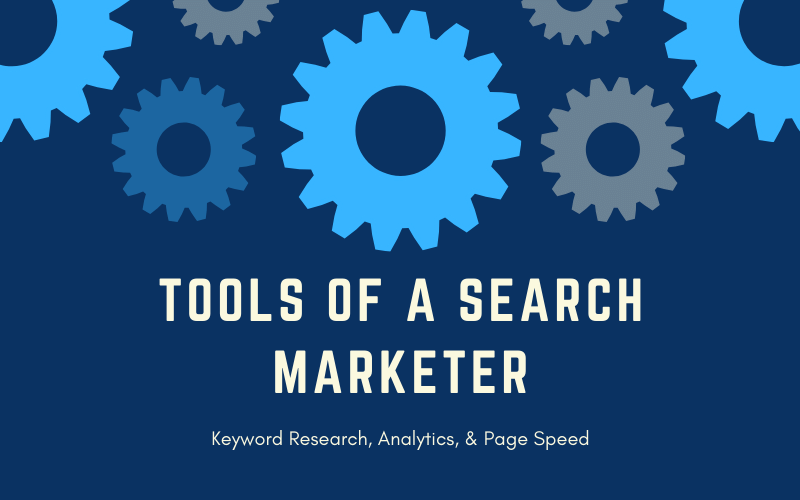 Search Marketing
Search marketing is the process of driving sales via the search engine. When we talk about search marketing we are generally referring to search engine optimization (SEO) and search engine marketing (SEM)
SEO vs. SEM
There are a lot of factors when considering whether to use SEO, SEM, or a combined strategy when thinking about entering the search arena. At a high-level SEO can be a bit more challenging but it is free and can provide long-term value whereas SEM (Google Ads) requires you to pay-per-click forever. There are pros and cons to using each tool and if you are looking to figure out which one to use see our articles the case for SEM and the case for SEO.
The Toolkit of a Search Marketer
Search marketing is so data-driven these days and without data, you can fall behind. As the old adage goes "what gets measured, gets managed." When we think about all our tips for SEO and Google Ads we need good tools to measure the components. Let's walk through some of my favorite tools for search marketing
1. Analytics
Google Analytics
First off, for all of digital marketing, is Google Analytics. Google Analytics is known to be a web analytics tool but it can provide a lot more value than just that as it aggregates marketing and search data from a variety of sources. It can help you understand your customer journeys and create better experiences and improve search marketing. To learn more about why you should use Google Analytics and see our course offerings see our Google Analytics class page.
2. Keyword Research
If you have any experience with search marketing you know how important keyword research is. At the heart of search marketing is the keyword. Understand keyword volume, competition, intent, and more will make you a great search marketer and it is also the first step to setting up Google Ads campaigns. If you need a refresher, check out this article on keyword research for search.
Keyword Planner
Google offers a great tool for search marketer in its keyword planner within the Google Ads platform (completely free to use). There you can explore keyword volume and competition or generate new keyword ideas. The keyword planner is the perfect place to start if you are starting out on a new search project.
Google Search Console
GSC is another important tool for search marketing. Search Console gives you insight into the keywords your site is showing up for, the landing pages, the number of clicks, average position by keyword, and more. The keyword planner is a better tool to get started on a search project but once you are off to the races with your site, Google Search Console is a great free tool for keyword research and performance data.
You can also merge your Google Analytics account with GSC to feed the data into Analytics for more data by query.
Paid Tools
There are also a ton of paid tools out there like Moz, SEMRush, Wordstream, etc. that can add a lot of value as you get further into search. Personally, I use SEMRush, but I can't say I've tried all the tools out there.
3. Page Speed
With SEO, page speed can be a big difference-maker so staying on top of this and measuring it regularly is important. There are lots of tools out there to measure page speed and thankfully a couple of great free ones.
Google PageSpeed Insights
Google, yet again, offers a very solid free option for measuring page speed. The tool is fairly easy to use, just pop in the URL and click analyze. It will provide you with information about the page on both mobile and desktop to help you make any enhancements.
GTMetrix
My personal preference for site speed is GTMetrix. It is just as simple to use, pop in a link and click analyze and offers great insight for improvements. I find the breakdowns from GTMetrix to be really helpful and straightforward, even with minimal development experience. It makes it easy to diagnose and solve page speed issues to improve your site.
Master Digital Marketing
To keep learning useful tools and techniques like these join us for digital marketing classes in NYC or see our new Digital Marketing Certificate program that covers SEO, Google Ads, Google Analytics, digital strategy, and social media marketing.