In this article, we'll discuss the importance of using the search terms report regularly. I'll also walk through how to set up an easy process to manage this with automated reports.
The search terms report is an existing report within Google Ads that gives you key insights into what people are searching that you are showing up for. In our negative keywords article, we discussed the importance of keeping good negative keyword lists to maintain good efficiency and performance in our Google Ads campaign.
One key way I do this is by regularly checking my search terms report.
Search Terms Report
One key thing to note is that search terms and keywords are not to be confused. Keywords are the words or strings of words we bid on like "+excel +classes," while search terms include any search that anyone makes. In the example of the broad match excel classes, a silly search term could be "excel classes for beginners who like pizza." (You'd be surprised what kinds of interesting search you'd find in your search terms report).
Negative Keywords
As discussed in our keyword mastery article, you want to make sure you are only paying for clicks that are relevant to your business and that's why you need to keep a good negative keywords list. If we have broad match terms, then we need to make sure we are regularly checking our search terms report so we can catch any new terms that aren't relevant to us. I remember when one time a new card game came out with a name similar to the company I was working for and all of a sudden we were serving ads for something completely irrelevant to a card game.
Keeping Up with the Industry
Another good reason to check the search terms report is to keep a pulse on your industry. Let's say you teach Excel classes and all of a sudden there is a wide-spread pandemic (like the one going on right now) you would benefit greatly from seeing that a lot more people are search for "excel classes online" than before and maybe you'll want to run some online classes. Knowing what's going on in search allows you to understand your customers and their needs better.
Create and Automate the Search Terms Report
In Google Ads, on the top bar, click "Reports" and "Reports" again

This will take you to a page with all your reports (which may be none at this point)

Then click "View all"

You'll see a bunch of basic report options and you'll want to click "Search terms"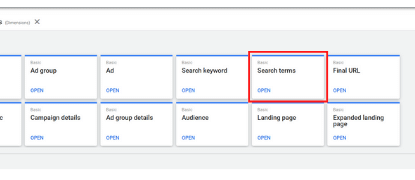 This will give you a basic search terms report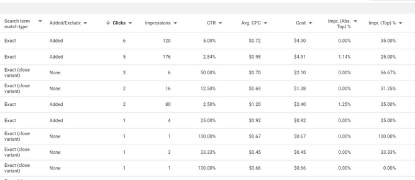 You can toggle the data, change the name, and choose the columns you want to make it your own

Once you are satisfied with the report you can "save" on the top right

On the top right you can click "schedule" to send yourself a daily, weekly, or monthly email with the report so you never forget
Master Digital Marketing
Learn more tips and tricks to master digital marketing in our digital marketing courses & bootcamp.