Content marketing is a tough game, but here are some proven strategies to get articles ranking on the first page of Google.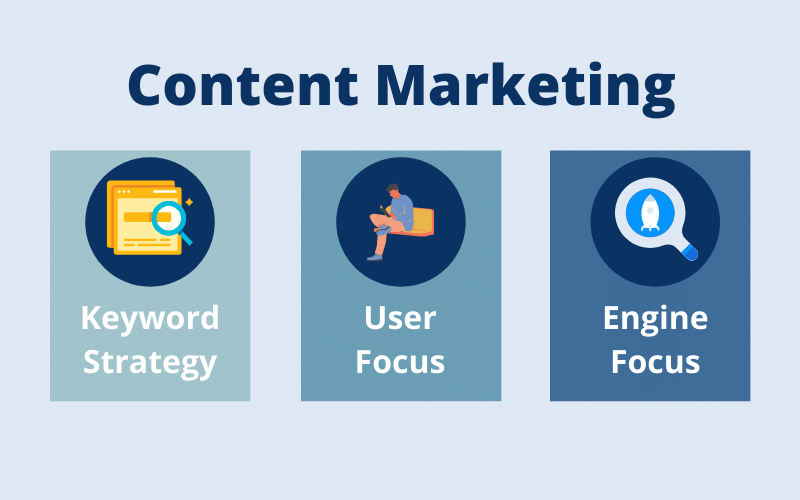 I've been doing a ton of content writing recently so I thought I'd share some of the things that have worked for me to get a handful of articles onto the first page of Google for their respective searches. Content writing is a long grind, but there are some strategies that I've tested and have worked to get my articles up and ranking quickly.
A. Know Your Audience / Keywords
One of the first things you'll be asked when launching a new business venture is "Who is your audience?" Well, when it comes to search and content marketing, the keywords are your indicator of what the audience wants. Let's say I know a ton about investing in energy stocks but everyone is searching for strategies to invest in tech and growth stocks, I may need to need to weigh my options.
While it's not necessarily true that you should always go for the highest volume keywords, you do need to make sure that what you are writing has value and is being sought out by people, which is generally validated in keyword research. To the point about writing to the highest volume keywords, it can actually work in your favor to find keywords that might have lower volume but are less competitive so you can actually make a splash in the rankings.
B. Write for the Users
After knowing who your audience is and what they are seeking, the most important thing to focus on is writing content for the users. While you might think you have to most technically sound content in the world, people don't usually seek academic journal-like writing when looking for something on Google. Make your writing more human.
Million Dollar Question of Content Marketing
In addition to that, the question I always ask myself time and again when writing an article is:
"What would make this better for the users?"
Every time I ask this question, I end up improving the article by just a little bit more. Let's go through a couple of improvements that work (graphics, formatting, summaries).
Graphics
I'm no graphic designer but think about some of the best content you've seen or the most shareable content. A lot of the time they have a killer graphic to illustrate a concept or summarize the article. When I ask myself the question about improving the article for the user, one of the first things I think of is making the content more digestible with a graphic. Either a graphic that highlights a specific concept or summarizes the key content. It makes for a much easier reading experience for the users and provides a lot of value. Additionally, I've seen the rankings of my articles go up immediately after adding a quality image or infographic to the page. Make sure to properly tag the graphic with relevant keywords too.
Summaries
On a similar note to graphics, people can't digest thousands of words of content that easily and people searching on Google aren't usually looking for a novel. Adding summaries to my articles at the top of the page provides a lot of value to the users because they can quickly take the highlights of the article in bullet points and it makes reading the rest of the article easier.
Formatting
Another way to improve the scannability of your content is to format appropriately. Imagine reading a 2,000-word block of text - you probably wouldn't even start. If the article was formatted with good headings, bullet points, lists, etc. you'd have a much easier reading and digesting of the content. Keep in mind some sort of skeleton format in your head for how you can make it digestible for the reader. This also makes it easier for Google to understand and potentially put into a snippet.
Headlines
Fortunately, or unfortunately, there is so much free and good content out there on the internet that it can be very tough to stand out. While I have never been a fan of clickbait (not good for the users), it is absolutely critical to have good headlines on your articles. If you are searching for Excel tricks are you more likely to click on "Best Excel Tricks" or "5 Excel Tricks That Helped Me Keep My Job?" Your headline should be equally as good as the content within, and vice versa. People aren't going to click on the next "Best XYZ" headline because there are a thousand of those. Be original and get creative.
C. Write for the Engine
Writing for the users is critical, but we also need to give the search engines a little bit of love.
Metadata
This is where metadata comes into play. One of the key ways to optimize our content for the engines is metadata. Metadata includes the meta title, meta description, and meta keywords (ignore this for now) set up for the page. The title of the page when a user lands on the page is different from the meta title that appears to Google.
When writing meta titles and descriptions for our pages we need to please the search engines a little bit by making sure to include our target keywords. Say we are writing that article about Excel Tricks, we'd probably want to make sure to include the term "Excel Tricks" somewhere in our meta title and description if that's what we are looking to rank for. Note, the metadata is also what shows up as the title and description in the search engine.
Site Speed
A big part of SEO is the technical side of your site and pages. One of the key areas of focus for me has been site speed as I've seen it improve my rankings time and time again. I've done mini-tests where I check my search ranking (using incognito), I test my site speed on GTMetrix, make a slight improvement to my page speed, re-index the page (with Search Console), and just like that I move up a couple of spots in the search rankings. You need to take site speed into account when making decisions with what to put on your pages and site.
While actual words probably won't slow down your page, adding large videos, non-optimized images, or too many tracking tools will really hurt your page speed and ultimately your ranking. Keep this in mind at all times and use a site speed tool to track and diagnose. I consider this largely a search engine play, but it really benefits the user experience as well. Who wants to be on a slow site?
Interlinking
A strong network of interlinks is another way to make your content better for the search engines (and the users). Interlinking strategy includes both links to that page/article and links to other relevant pages and articles. Say we are writing that Excel tricks article, within each trick I may want to link to a more detailed page or video explaining how to use that trick.
In addition, on those in-depth articles about each trick, I may want to link back to the full Excel tricks article. This makes it a lot easier for the search engines to crawl around your site and string together your content. It also keeps the users engaged on your site because they can poke around related articles and dive deeper into a topic.
Recap & Learn More Digital Marketing
Content marketing can be an extremely fruitful venture for your website. We covered a handful of tips and tricks in this content marketing guide, but let's recap some of the key takeaways you should always keep top of mind.
Understand what keywords you are trying to rank for based on volume, competitiveness, and relevance, and optimize towards them.
Always strive to make your content as useful and engaging for the users by giving more, creating summaries, including graphics, and whatever else you think would be useful to the user.
Want to become a digital marketing expert and learn how to implement more strategies like this? Join us for hands-on digital marketing classes in NYC or live online. We also have a new offering! Join us for our Digital Marketing Certificate program where you'll master digital marketing strategies, SEO, Google Ads, social media, and Google Analytics to take your digital marketing skills to the next level and grow your business.
Happy content marketing!