With COVID-19 leaving many unemployed or underemployed, millions of Americans are left looking for new jobs. Hopefully, many of these workers will be able to return to their jobs soon, but some will be left looking for new opportunities. In this article, we'll cover some of the best skills to pick up and how you can go about learning them.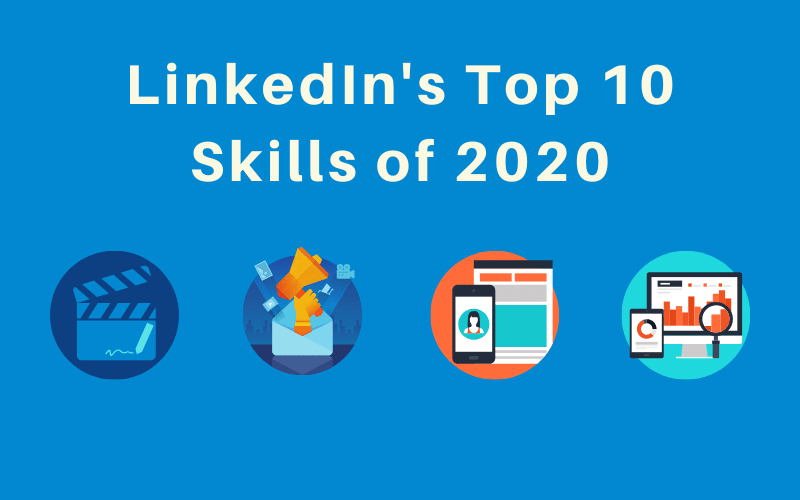 LinkedIn's Top 10 Skills of 2020
According to LinkedIn Learning trends, the most in-demand hard skills of 2020 are:
1. Blockchain
This is new to the list and involves skills to support the rise in popularity of cryptocurrency. Learn more about blockchain here.
2. Cloud Computing
With so many companies running in the cloud, they need experts in cloud computing to design, implement, and manage cloud systems. See What is Cloud Computing? to learn more.
3. Analytical Reasoning
As business has become more and more data-driven, there is a growing need for talent to analyze data and inform decision-making based on data.
4. Artificial Intelligence
AI and machine learning take data to the next level and leverage big data for predictive analytics. Learn more about machine learning at MIT Technology Review.
5. UX Design
Creating human-centered products and experience is critical for businesses to succeed today and UX design is all about building those seamless experiences. Read more in What is UX Design?
6. Business Analysis
This one has made a big leap on the list and similar to "Analytical Reasoning" is about making data-driven decisions.
7. Affiliate Marketing
Within the world of digital marketing, there has been a rise in the use of partnerships and influencer marketing to drive growth.
8. Sales
Selling has been around for a long time and remains a key skill for many businesses. Learn more from Glassdoor about getting a job in sales.
9. Scientific Computing
This set of skills includes data science, software architecture, and other skills related to machine learning and data analysis.
10. Video Production
Video content continues to grow and be more important for businesses, especially on websites and social media as a way to engage customers. Read more on Why Video Editing is Your Next Move.
Now that we've covered LinkedIn's top skills, let's dive deeper into the key takeaways and find options to learn these skills. Blockchain aside, let's group these skills into a couple of categories - business & data analytics, UX design, digital marketing, and video editing.
Business & Data Analytics
With so many of these in-demand skills touting big data and the need for analytical reasoning and data skills, this set of skills seems like the true #1. When we talk about business and data analytics these span data analytics tools like Excel and SQL to data science skills like Python and R.
In a nutshell, data analytics is about analyzing data to understand and inform decisions, and data science is leveraging data to make predictions for the future. Whether you want to learn data analytics or data science, we offer training options to help you learn the skills and break into the field.
Our Data Analytics Bootcamp tackles the most critical analytics tools including Excel, SQL, and Tableau. You'll learn to analyze large sets of data, drive valuable insights, and create powerful data visualizations. Our Data Science Certificate will teach you the data science skills you need to become a data science including Python programming, SQL, and machine learning so you can create predictive models.
UX Design
#5 on the list was UX design, which highlighted the need for products and experiences to be human-centered to succeed. Whether it's building an app, a website, or any experience, UX and UI should be top of mind.
In our UX & UI Design Certificate, you'll learn the UX and UI design principles you'll need as well as tools like Sketch, Photoshop, and Illustrator. With our hands-on approach, you'll work on UX & UI projects to develop your skills and your portfolio to get you started as a UX & UI designer.
Digital Marketing
Think about the last product or service you bought - you probably found it by doing a Google search or seeing a digital ad somewhere. The world of digital marketing is vast and spans across SEO, paid search, social media, affiliate marketing, email marketing, site optimization, and the list continues to grow. Whether you are looking for a career as a digital marketer, looking to grow an existing business, or looking to launch your own business, digital marketing skills are critical.
In our Digital Marketing Certificate, you'll learn the skills to succeed in digital marketing, including SEO, Google Ads, Google Analytics, social media, email marketing, and more from top digital marketing experts. You'll work hands-on in the tools and walk away with skills to dominate the search engines, optimize your site, grow your business with social media, and more.
Video Editing
As the growth of video content has continued, the demand for video content producers and editors is growing. Video editing involves cutting, moving, and manipulating videos to create a complete video product. In our video editing and motion graphics classes, you'll learn the skills and tools you'll need for video editing and motion graphics, including Premiere Pro and After Effects.
Work on video and motion projects to bring your work to life and develop your portfolio for prospective employers or clients. In our Motion Graphics Certificate, you'll create video projects with Premiere Pro, animate with After Effects, and build your portfolio in the Portfolio Development class. For those looking to focus only on video editing, check out our comprehensive Premiere Pro Bootcamp.
Recap
In this guide, we covered LinkedIn's top trending skills and presented some practical ways to break into these fields. We hope this guide can be helpful for anyone looking to learn new skills or start a new career. As always, we are here to help throughout the process and strive to create the best learning experiences to set you up for success.