Lightroom is an amazing program that can help you organize, optimize and share your photos. This book will cover the basics of importing photos from your camera into Lightroom's catalog, editing and organizing your pictures, optimizing and developing your photos for printing, creating slideshows, webpages and printed books to share your work, publishing your pictures on social media sites and keeping your photo library safe by implementing backup strategies.
Includes Downloadable Class Files (works on Mac & PC)
ISBN: 978-1-934624-41-8
Download Sample Exercise
Section 1
The Library Module
Topics Covered: Importing Photos
Adding Metadata
Renaming Photos
Viewing & Managing Images
Topics Covered: Grid View and Loupe View
Comparing Images Side by Side
Flagging and Rejecting Photos
Stacking Photos
Working with Collections
Topics Covered: Making & Saving Quick Collections
Creating Collection Sets
Creating Smart Collections
Organizing Folders
Topics Covered: Creating Subfolders
Locating Lost Images
Keywording
Topics Covered: The Keywording Panel
Filtering by Keywords
Nested Keywords
Mapping Photos with GPS
Topics Covered: Mapping Photos with Embedded GPS
Mapping Photos without Embedded GPS
Creating and Saving Locations
Section 2
Using Flags and Ratings
Topics Covered: Flagging and Rejecting Photos
Rating Photos
Filtering Flagged and Rated Photos
The Painter Tool
Topics Covered: Painting Keywords, Labels & Ratings
Filtering by Painted-On Attributes
Relinking Missing Files & Folders
Topics Covered: Renaming Files
Locating Renamed Files
Finding Missing Folders
Working with Quick Develop
Topics Covered: Make Quick Edits in Quick Develop Panel
Apply Edits to Multiple Photos
Cropping & Rotating Images
Topics Covered: Cropping Images
Rotating Images
Straightening Images
The History Panel
Removing Dust Spots from Photos
Topics Covered: Spot Removal Tool
Section 3
Creating Snapshots
Topics Covered: Edit Photo to Create History
Creating and Working with Snapshots
Applying Basic Color Corrections
Topics Covered: Adjusting Temp and Tint
White Balance Presets
White Balance Eyedropper Tool
Adjusting Contrast Using the Tone Curve
Topics Covered: Contrast/Lighting in Target Areas
Highlights, Lights, Darks, & Shadows
Manually Editing the Tone Curve
Noise Reduction
Topics Covered: Removing Noise
Bringing Back Some Detail
Sharpening Details
Topics Covered: Sharpening within the Detail Panel
Sharpening Mask
Correcting Lens Distortions & Adding Effects
Topics Covered: Lens Corrections using a Built-In Profile
Adding a Vignette
Adding Grain
Discrete Color Adjustments
Topics Covered: Adjusting Luminance
Adjusting Saturation
Creating Develop Presets
Topics Covered: Create a Develop Preset
Save and Apply a Develop Preset
Working with Virtual Copies
Topics Covered: Creating Virtual Copies
Editing Virtual Copies
Reviewing Virtual Copies
Section 4
Converting a Photo to Black & White
Topics Covered: Convert to Black & White
Adjusting the Tone Curve
Adding a Vignette
Using the Graduated Filter Tool
Topics Covered: The Graduated Filter Tool
Adjusting the Size & Scope of the Graduated Filter
Deleting Filter Masks
Using the Adjustment Brush Tool
Topics Covered: The Adjustment Brush Tool
Adjusting Exposure & Saturation
Viewing Masks
Deleting Adjustment Brush Masks
Using the Radial Filter Tool
Topics Covered: Creating a Vignette Highlight
Creating a Subtle Glow Effect
Using the Advanced Healing Brush Tool
Topics Covered: Removing One Kayak From the Photo
Changing the Source Area
Portrait Retouching
Topics Covered: Teeth Whitening
Adjusting Skin Tone
Iris Enhancement
Skin Softening
Detail Enhancement
Creating a Basic Web Gallery
Topics Covered: The Web Module
Changing the Web Gallery's Appearance
Creating a Watermark
Saving a Template as a Preset
Emailing Photos
Topics Covered: Using a Desktop Email Client
Using an Online Email Client
Exporting Photos
Topics Covered: Exporting Photos
Saving an Export Preset
Transfer Catalogs Between Computers
Topics Covered: Import and Export Photos as a Catalog
Working with Smart Previews
Topics Covered: Simulating Ejecting an External Drive
The Advantage of Smart Previews
Bonus Exercises
Creating & Printing a Contact Sheet
Topics Covered: Create a Contact Sheet
Alter a Contact Sheet's Appearance
Print a Contact Sheet
Posting to Facebook
Topics Covered: Connecting Lightroom to Facebook
Posting Photos to Facebook with Lightroom
Commenting through Lightroom
Creating a Slideshow
Topics Covered: The Slideshow Module
Creating Intro & Ending Screens
Exporting a Slideshow
Editing in Photoshop
Topics Covered: Opening a Lightroom Photo in Photoshop
Image Adjustments in Photoshop
Locating the Photoshop-Edited Photo in Lightroom
Creating a Book
Topics Covered: The Book Module
Editing Page Layout
Deleting Pages
Exporting a Book as a PDF
Split Toning a Black & White Image
Topics Covered: Working with Highlights and Shadows
Using Negative Saturation
Topics Covered: Make a Foreground Image Black & White
Make a Background Black & White
Editing Video
Topics Covered: Video Basics
Editing a Video
Exporting a Video
Creating a Panorama
Topics Covered: Adjust Photos in Illustrator
Creating a Panorama in Photoshop
Tweak Processing in Illustrator
Creating a Quick Promo Card
Topics Covered: Import Photo to Print Module
Position Elements and Add Text
Resizing and Printing the Promo Card
Examples of What You Learn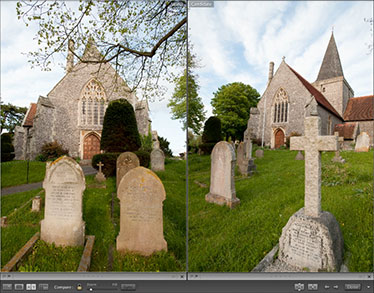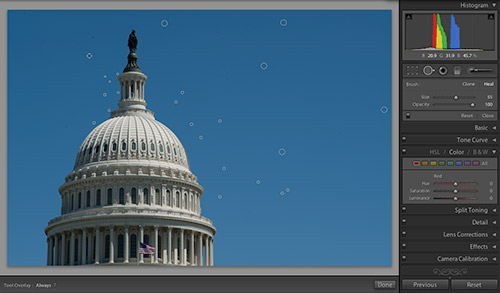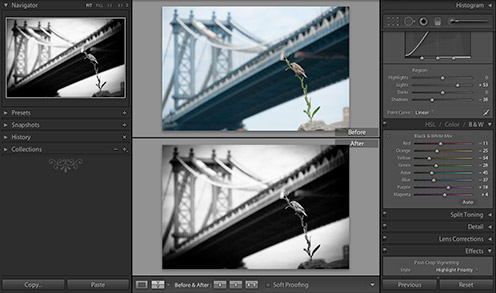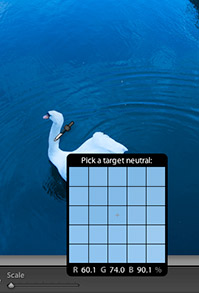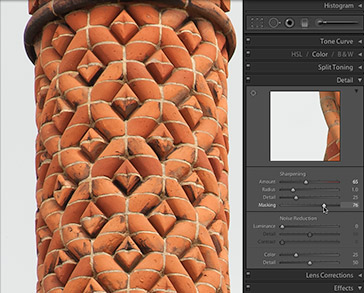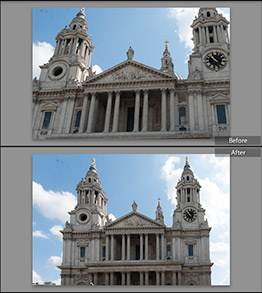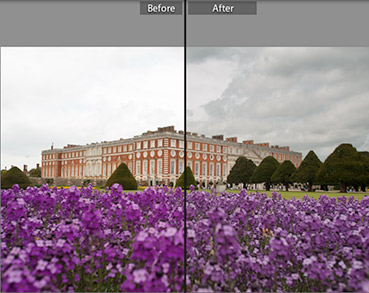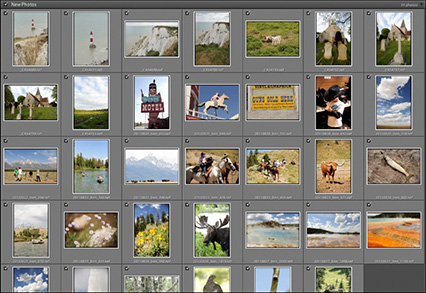 Why Our Books Are Unique
Our books are packed with step-by-step exercises that walk you through projects. You'll learn by doing exercises, not reading long explanations. The goal is to give you hands-on practice with the program, getting you started quickly with the things that are most important for real life work.