In this web design summer camp, students will learn how to code and design modern responsive websites. Students spend time learning how to design websites using Sketch. After learning how to mock up a website using their newly learned design tools, student move onto to learning how to implement those changes via code.
Students start by learning how to build a basic web page using HTML and CSS. Students quickly move onto more advanced coding techniques learning how to style and layout the page with Flexbox and Grid. Once students are able to master these coding languages they will be able to bring their designs to real life!
After learning new skills and techniques in class, students reinforce important concepts by developing their own final project at home, with tons of instructor guidance along the way!
Prerequisites & Ages: The program is ideal for high school students with a strong interest in coding. Prior coding/programming experience is not required, but students must be comfortable with computer basics.
More Summer Code Camps: Check out our other coding summer camps and courses in NY. Additionally, we have a NJ location with more coding camps for teens.
Small Classes
Computer Provided
Book included
Free Retake
Take this program as part of a certificate and save:
What You'll Learn
Use Sketch to create and optimize graphics for web and user interface design.
Create wireframes and turn them into finished designs that are optimized for mobile, tablet, and desktop screens.
Build the front-end of webpages by coding HTML and CSS
Markup content such as text, images, links with HTML and then style it with CSS
Code fluid-width layouts that adapt to different size screens
Learn modern CSS page layout technique such as flexbox and grid
View full syllabus
Web Design Summer Camp Class Syllabus
HTML & CSS
Normalize.css, Default Box Model, & More
 
Using normalize.css
Grouping CSS selectors using a comma separator
Fluid, hi-res images
Constraining the width of content
Visualizing the box model (margin, padding, and border) in Chrome's DevTools
Fixing spacing issues around images
CSS shorthand for the background property
Font-Weight, Font-Style, & Unitless Line-Height
 
Adding custom web fonts from Google Fonts
Using font-weight & font-style
Unitless line-height
Box Model: Content-Box vs. Border-Box
 
How border-box is different than content-box
Best practice for applying border-box to everything
Intro to SVG (Scalable Vector Graphics)
 
Adding SVG to a webpage
Sizing SVG
Web Servers: Configuring a .htaccess file for SVG & gzip
CSS Level 1
Embedding SVG
 
Embedding SVG (instead of linking)
Styling SVG using CSS
Using currentColor
SVG Sprites
 
Defining the SVG sprite
Using a sprite
Styling sprites
CSS Position Property
 
The static value & the normal document flow
The relative value
The absolute value
The dynamic duo: relative parent, absolute child
The fixed value
Creating a Fixed Navbar & RGBA Color
 
Creating a fixed navbar on wider screens
RGBA color
CSS Level 2
CSS Background Gradients & Gradient Patterns
 
CSS background gradients
Creating a striped background using gradients
Multiple Backgrounds & Viewport Sizing Units (vw)
 
Multiple backgrounds on a single element
Colorizing a photo by overlaying a transparent gradient
Using viewport sizing units (vw)
Creating Columns with Inline-Block & Calc()
 
Displaying content as columns using inline-block
Using CSS calc()
CSS Variables (Custom Properties)
 
Defining & using CSS variables
The power of inheritance
Relational Selectors
 
Adjacent selectors
Using first-child & last-child
Using first-of-type
Using nth-child
Direct child/descendant selectors
Pseudo-Elements & the Content Property
 
Using pseudo-elements
The content property
Seeing pseudo-elements in Chrome's DevTools
Attribute Selectors
 
Adding link icons with attribute selectors
"Ends with" attribute selector
"Begins with" attribute selector
"Contains" attribute selector
Styling Forms with Attribute Selectors
 
Styling form elements
Targeting inputs with attribute selectors
The ::placeholder pseudo element
Relative Sizes: Em and Rem
Image Handeling
Flix: Creating a Scrollable Area
 
Creating a horizontal scrollable area
Optimizing the scrolling for iOS touch devices
Flix: Media Queries for Retina/HiDPI Graphics
 
Using media queries to load hi-res images for Retina/HiDPI displays
Responsive Images
 
Img srcset
The picture element
Off-Screen Side Nav Using Only CSS
 
Responsive off-screen navigation
Toggling the navigation with a checkbox
CSS transitions
CSS Level 3
Box-Shadow, Text-Shadow, & Z-Index
 
Using the CSS box-shadow property
Changing an element's default stack order with position and z-index
Inset shadows
Adding drop shadows to text with CSS text-shadow
Layering multiple text-shadows for a detached outline effect
Hiding & Showing: Display, Visibility, & Opacity
 
Removing an element from the normal document flow with display: none
Hiding/showing elements with visibility
Hiding/showing elements with opacity
How display, visibility, & opacity differ
CSS Transitions
 
Transition-property & transition-duration
Transition shorthand & the all keyword
Transitioning position coordinates
Adding easing with transition-timing-function
Custom easing with Ceaser
CSS Transforms with Transitions
 
Testing transforms using the DevTools
Adding a scale transform & transitioning it
Transform origin
Rotate & skew transforms
Using the translate transform to nudge elements
Flexbox Level 1
Intro to Flexbox
 
Display Flex
Alignment & Distribution on Main Axis & Cross Axis
Flex Direction (Row & Column)
How Auto Margins Are Useful
Flexbox: Sizing & Alignment
 
Controlling Size with Flex-Grow, Flex-Shrink, & Flex-Basis
Aligning All vs. Specific Flex Items
Nesting Flexbox
Flex Shorthand
Flexbox: Vertical Centering on a Full Screen Background
 
Creating a Full Screen Background
Using Viewport Sizing Units vh & vw
Vertically Aligning Content With Flexbox
Darkening the Background Image Via CSS
Flexbox Wrapping
 
Flex-Wrap
Sizing Flex Items (Flex-Grow & Flex-Basis)
Flexbox Level 2 & Bootstrap
Flexbox: Reordering Content
 
Changing the Order of Flex Items
Positive vs. Negative Order Values
Flexbox: Creating a Responsive Pricing Grid
 
Nesting Flexbox
Application of Flexbox Concepts to a Pricing Grid Layout
Bootstrap: Getting Started
 
Using Bootstrap's Grid System (Containers, Rows, & Columns)
Creating Columns & Adding Content
Adjusting Column Sizes Across Screen Sizes
Using Some of Bootstrap's Components & Pre-Made Styles
Bootstrap: More About Grids & Components
 
Nesting Grids
Adding a Navbar & Other Components
Showing & Hiding Elements at Specific Sizes
Bootstrap Level 2 & Grid
Bootstrap: Spacing & Adapting Layout Across Screen Sizes
 
Adding an Email Signup Form
Adjusting Spacing
Changing the Layout Across Screen Sizes
Intro to Grid
 
Getting Start With Grid (Columns, Rows, & Gaps)
The Explicit vs. Implicit Grid
Firefox DevTools for Grid
Grid: Sizing & Placing Items Within the Grid
 
Spanning Columns & Rows
Placing & Sizing Using Numbered Grid Lines
Naming Grid Lines
Grid: Minmax, Auto-Fit, & Auto-Fill
 
Sizing with Minmax
Auto-Fit vs. Auto-Fill
Max-Content & Min-Content
Grid Level 2
Grid: Template Areas
 
Setting Up Grid Template Areas
Creating Empty Grid Areas
Using Automatically Created Named Lines
Multiple Elements Occupying the Same Grid Area
Viewing Grid Template Area Names In Firefox's DevTools
Grid: Alignment, Centering, & Reordering Content
 
Aligning Grid Items
Aligning Within the Grid Container
Aligning Individual Grid Items
Ordering Grid Items
Grid: Laying out an Article
 
Using Grid to Lay Out an Article
Making Elements Go Full-Width
Adding Elements into the Side Columns
Grid: A Responsive Image Gallery (Masonry Layout)
 
Creating the Grid Layout
Enlarging Some Photos to Create a Masonry Layout
Sketch Level 1
Creating New Files & Designing on a Grid System
Topics
Sketch templates, artboards, & pages
Creating a new file
Setting up a layout grid
Creating colored backgrounds for text
Importing text
Adjusting the Layout for Tablets & Mobile Phones
Topics
Designing with Bootstrap's grid
Adapting the design for tablets
Adapting the design for mobile phones
Inserting & Masking Photos
Topics
Importing photos
Cropping a photo (masking)
Custom shaped masks
Inserting Vector Graphics, Fills, Shadows, & More
Topics
Importing & modifying vector graphics
Making grouped objects easily selectable
Layer opacity vs. fill opacity
Aligning & distributing layers
Reusing colors found in the design
Adding a drop shadow
Sketch Level 2
Shared Graphic Styles (Reusable Appearance)
Topics
Creating a shared graphic style
Attributes that are not part of a shared graphic style
Changing & renaming graphic styles
Making a style to darken full-width background photos
Text Styles (Reusable Appearance)
Topics
Creating text styles
Editing text styles
Renaming styles & organizing into folders
Symbols (Reusable Elements)
Topics
Creating & editing symbols
Customizing content inside a symbol
Resizing symbols
Renaming symbols
Detaching from a symbol
Exporting Assets: SVG & PNG
Topics
Exporting artboards
Exporting for web as SVG & PNG
Exporting into folders
Exporting Assets: 1x & 2x JPEG
Topics
Exporting as JPEG
Properly setting JPEG quality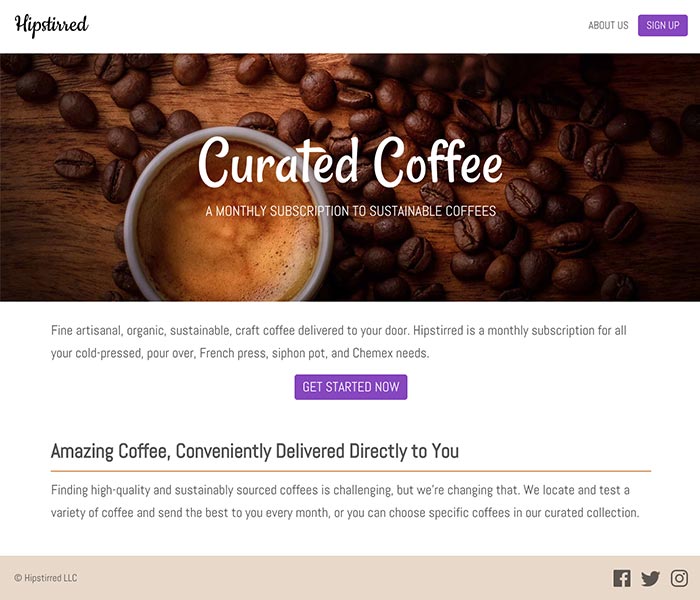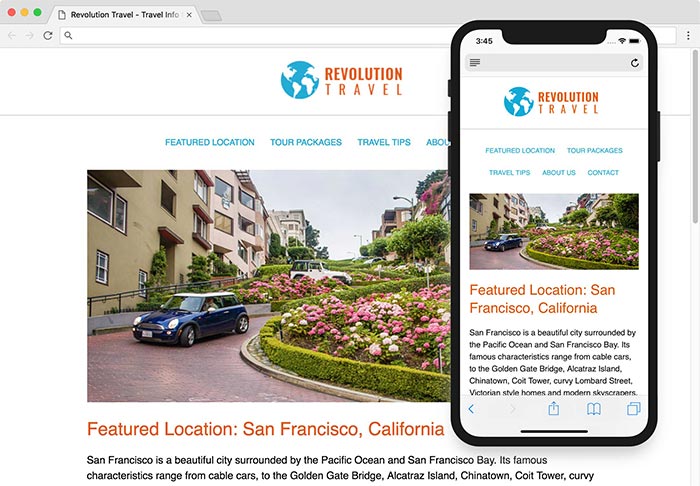 Create fluid layouts that work across devices.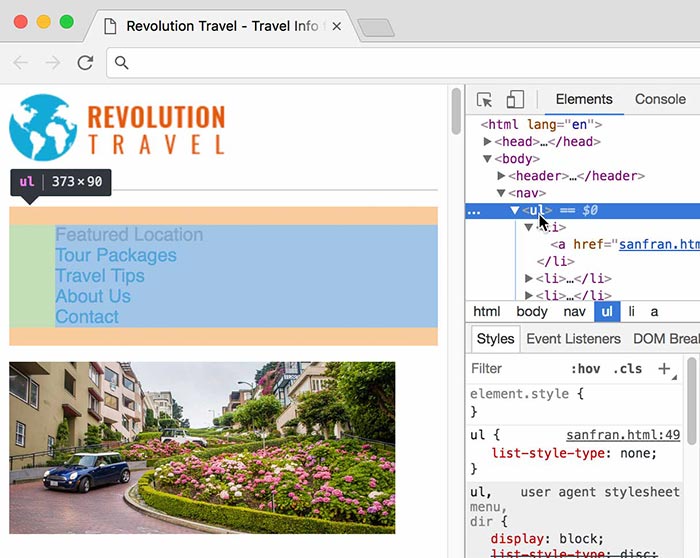 Learn to use the DevTools built into web browsers to inspect and experiment with code.
Use JavaScript to add interactivity & let users change elements on the page
Use JavaScript for animation. Here smooth scrolling makes in-page navigation nicer (popular on single page sites).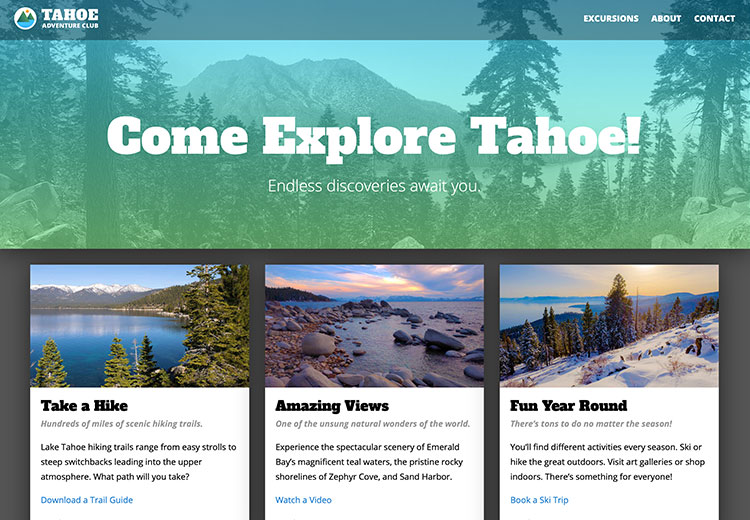 Learn about CSS gradients, RGBA, CSS calc(), multiple background images, the border-box box model, and more
Create hover animations using CSS transitions & transforms
GSS Flexbox & Grid makes creating webpage layouts easier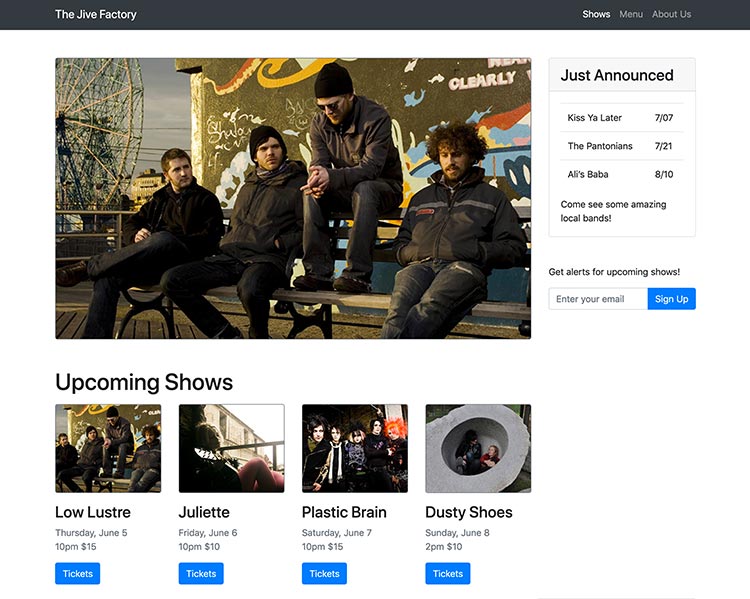 Quickly build webpages with Bootstrap's pre-made grid-system & components without having to code as much CSS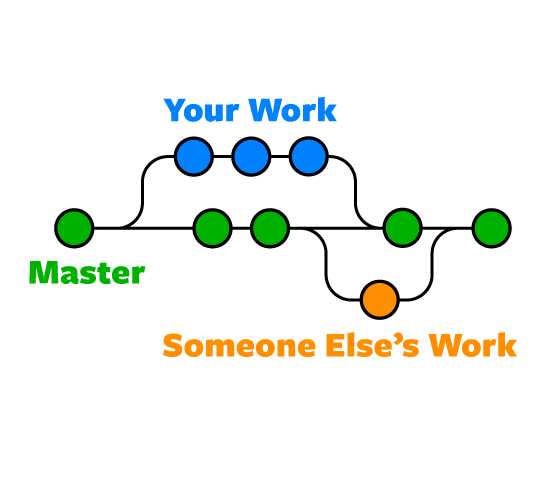 Use Git to keep a history of changes and work with other developers using commits & branches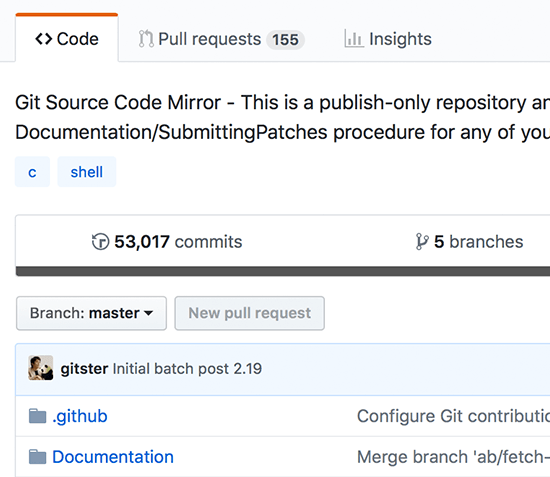 Learn to work with remote repos on GitHub & Bitbucket