Flash CS4 Shortcuts: Mac

Here are many of Flash's keyboard shortcuts. Some of them are the little known, hidden keystrokes! Download them as a PDF (nicely formatted single page that's easily printed), or scroll down to the shortcut you need. Feel free to link to this page to share it with others! Enjoy...
Download PDF

Timeline
Insert Frame
F5
Delete Frame
Shift–F5
Insert Keyframe
F6
Clear Keyframe
Shift–F6
Insert Blank Keyframe
F7
Play
Return
Rewind
Shift–Comma (,)
Step Forward One Frame
Period (.)
Step Backward One Frame
Comma (,)
Symbols & Shapes
Convert to Symbol
F8
Create New Symbol
Cmd–F8
Break Apart
Cmd–B
Group
Cmd–G
Ungroup
Cmd–Shift–G
Bring Forward
Cmd–Up Arrow
Bring to Front
Opt–Shift–Up Arrow
Send Backward
Cmd–Down Arrow
Send to Back
Opt–Shift–Down Arrow
Distribute to Layers
Cmd–Shift–D
Paste in Place
Cmd–Shift–V
Add Shape Hint
Cmd–Shift–H
Show Shape Hints
Cmd–Opt–H
Panels
Actions
Opt–F9
Library
Cmd–L
Properties
Cmd–F3
Align
Cmd–K
Transform
Cmd–T
Color
Shift–F9
Document Properties
Cmd–J
Hide All Panels
F4
Misc.
Test Movie
Cmd–Return
Bandwidth Profiler (While in Test Movie)
Cmd–B
Simulate Download (While in Test Movie)
Cmd–Return
Publish
Shift–F12
Import to Stage
Cmd–R
Click Here for More Shortcut Guides
We Literally Wrote the Book!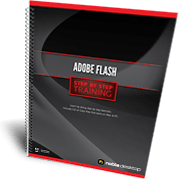 To make the perfect class we had to write our own workbooks which are included with each class.
Can't take a class? Our workbooks are the next best thing.
Buy Workbook