Course Workbook
HTML Email
This book contains step-by-step exercises designed to walk you through creating HTML emails in Dreamweaver CS5. A variety of exercises will show you how to layout emails, style with email-friendly CSS, convert to absolute links, make a table of contents, create and style alt text, and various email client-specific fixes.

Class Files CD included (works on Mac & PC)
ISBN: 978-1-934624-71-5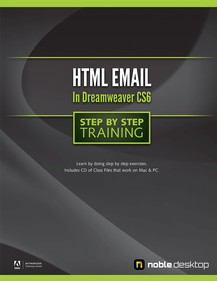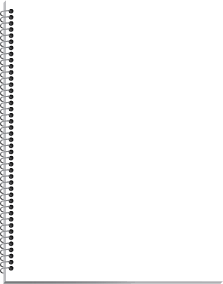 WHY OUR BOOKS ARE UNIQUE
Our books are packed with step-by-step exercises that walk you through projects. You'll learn by doing exercises, not reading long explanations commonly found in user manuals. The goal is to give you hands-on practice with the program, getting you started quickly with the things that are most important for real life work. Our books are not a replacement for the manual, but manuals aren't how you learn an app!
OUR GUARANTEE
Not satisfied? Mail the book back to us within 30 days and we'll refund the full price including shipping! You only pay for the shipping back to us.
EXAMPLES OF WHAT YOU LEARN
Learn to make great looking HTML emails.
Table of Contents
We break the book down into 3 hour class sessions. If you are doing the exercises on your own (not in a class), you can expect to take around 3 hours per session.
Section 1
Setting Up For Class: Do This Exercise First!
Topics
Setting Preferences and Workspace
Simple Layout
Topics
Working with Tables
Centering the Email
Text Styling
Adding a Border
Enewsletter Layout
Topics
Multi-table Layout
Non-centered Columns
Content Styling
Topics
Email-Friendly CSS
Shorthand vs. Longhand CSS
Section 2
Adding More Content
Topics
Creating New Events
Adding a Footer
HTML Attributes vs. CSS Rules
Setting a Background Color
Adding Links
Topics
Converting to Absolute Links
Styling Links
Alt Text and Images
Topics
Creating Alt Text
Styling Alt Text
Image Width and Height
Sending Tests and Email Fixes
Topics
Testing in Various Email Clients
Fixes for Hotmail, Gmail, Yahoo! Mail, and Outlook 2007/2010
Bonus Material
Yahoo Mail and .yshortcuts
Topics
Yshortcuts Explained
Adding a Span Tag to a Link
Creating a More Specific Style
Table of Contents & Email Links
Topics
Making a Table of Contents
Named Anchors
Creating an Unsubscribe Link
Creating and Naming Slices in Photoshop
Topics
Slicing a Photoshop File
Naming Slicing
Adding Alt Text
Adding Link URLs
Optimizing & Exporting HTML
Topics
Optimizing Slices as GIF, PNG or JPEG
Exporting HTML
Finishing Up in Dreamweaver
Topics
Centering the Email
Adding a Background Color
Styling Alt Text
Reference Material
Overview of HTML Email Best Practices
Online Reference Guides